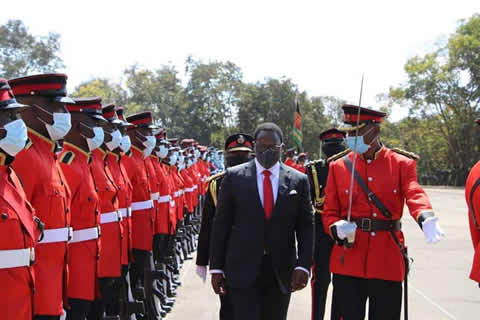 Commander-In-Chief Of The MDF
The Executive Arm of Government
The Executive Arm of Government comprises of the Presidency (President and Vice) and Cabinet Ministers and Deputy Ministers. The Executive is headed by the state President, who is also the commander-in-chief of the Malawi Defence Force and Malawi Police Service.
The Current President of the Republic of Malawi is His Excellency Dr Lazarus McCarthy Chakwera. Dr Chakwera was elected as the sixth President of the Republic on 23rd June 2020. The President is also serving as the Minister of Defence.
The current Vice President is Right Honourable Dr Saulos Klaus Chilima. Dr Chilima is also responsible Public services reforms.
The dual were sworn in on 28th June 2020 at a colourful event which took place at Malawi Square, Bingu International Convention Centre in Lilongwe City. The inauguration of the sixth President took place on 6th July 2020 at Kamuzu Barracks in Lilongwe under the theme building a better Malawi. The inauguration which was set to take place simultaneously with the 56th Independence celebrations was moved to the Army barracks as a precaution to the Covid-19 pandemic. In both the speeches he made at the Swearing In and the Inauguration ceremonies Chakwera has emphasised on a servant leadership style of his Presidency and the need to make a Nation that brings opportunities and hope to all.
Cabinet
Based on powers accorded to him by the constitution, President Dr Chakwera in January 2022 appointed a cabinet. The Cabinet has a gender proportion of 60 percent men and 40 percent women. It is the first cabinet to have such a bigger number of women representation in the history of the country.
The Cabinet List
His Excellency Dr. Lazarus McCarthy Chakwera: President of the Republic of Malawi, Commander-In Chief of the Malawi Defence Force and Minister of Defence.
Right Honourable Dr. Saulos Klaus Chilima: The State Vice President of the Republic of Malawi and also responsible for Public Sector Reforms.
Honourable Samuel Kawale M.P. Minister of Agriculture.
Honourable Agnes Nyalonje, Minister of Education.
Hon. Sosten Alfred Gwengwe, MP Min. of Finance and Economic Affairs
Honourable Nancy Tembo,MP: Minister of Foreign Affairs
Honourable Patricia Annie Kaliati, Minister of Community Development and Social Welfare.
Honourable Timothy Pagonachi Mtambo, Minister of Civic Education and National Unity.
Honourable Khumbize Kandodo Chiponda, M.P., Minister of Health.
Honourable Gospel Kazako, Minister of Information.
HonourableTitus Mvalo. Minister of Justice.
Honourable Vera Kamtukule: Minister of Labour
Honourable Prof. Blessings Darlo Chinsinga: Minister of Local Government
Honourable Ibrahim Matola: Minister of Energy
Honourable Eisenhower Nduwa Mkaka, MP Minister of Natural Resources and Climate Change
Honourable Dr. Michael Bizwick Usi, Minister of Tourism, Culture and Wildlife.
Honourable Jacob Hara, MP: Minister of Transport and Public Works
Honourable Jean Muonaowauza Sendeza, MP: Minister of Homeland Security
Honourable Dr. Albert Mbawala, MP Minister of Mining
Honourable Richard Chimwendo Banda, MP Minister of Youth and Sports
Honourable Mark Katsonga Phiri, MP: Minister of Trade and Industry
Honourable Abida Sidik Mia, MP: Minister of Water and Sanitation
Deputy Ministers:
Honourable Harry Mkandawire – Deputy Minister of Defense.
Honourable Nancy Chaola Mdooko – Deputy Minister of Transport and Public Works.
Honourable Enock Phale – Deputy Minister of Health.
Honourable Monica Chang'anamuno – Deputy Minister of Education.
Honourable Halima Alima Daud – Deputy Minister of Local Government.
Honourable Deus Gumba – Deputy Minister of Lands.
Honourable John Bande, MP - Deputy Minister of Water and Sanitation
Honourable Agnes Nkusa Nkhoma – Deputy Minister of Gender, Community Development & Social Welfare.
History of the Republic of Malawi Presidency
Malawi became a republic in 1962 with the founding President His Excellency Dr Kamuzu Banda of the Malawi Congress Party (MCP) as its Prime Minister before he became the first President after full Independency on 6th July 1964. Dr Banda ruled the Country for 31 years before stepping down in 1994 after conceding electoral defeat to Dr Bakili Muluzi of the United Democratic Front (UDF). Dr Muluzi became the 2nd President of the republic on 24th May 1994. He ruled the Country for 10 years from 1994 to 2004, at the end of his Consititutional two terms. Professor Bingu Wa Mutharika then of UDF was elected as the third president of the republic. In 2005 Professor Mutharika damped the UDF and formed his Democratic Progressive Party and was re-elected in 2009. In 2012 Professor Mutharika died of Cardiac arrest and his Vice Dr Joyce Banda took power as mandated by the Constitution. By the time Dr Joyce Banda took power she had already left the DPP and was heading her Peoples Party (PP) which immediately became the ruling Party. Dr Joyce Banda left power after losing the 2014 election which was won by Professor Peter Mutharika, younger brother to late Bingu and new leader of the DPP. Professor Mutharika became the 5th President of the republic on 21st may 2014. Professor Mutharika left power on June 26th 2020 after losing the Fresh elections which was sanctioned by the Constitutional Court after it nullified the 2019 elections that had declared him a winner. The current President Dr Lazarus Chakwera ascended to power on 28 June following a 58 % majority win of the fresh elections. He is the sixth President of the republic.